Taiwan, Part 18 - National Palace Museum
July 25, 2011
National Palace Museum
The National Palce Museum (NPM) was originally founded in 1925 in the Forbidden City in Beijing, which explains why the word "Palace" is used in its name. Beginning in 1931 the collection was crated and moved into the hinterland of China to avoid the ravages of the impeding Sino-Japanese. In 1949, with civil war raging between the Nationalist government and the Communists, the Republic of China shipped about 680,000 of some of the most precious objects in the collection to Taiwan establishing repositories at Yangmei in Taoyuan and Peikou in Wufeng, Taichung. Not until 1965 were they moved to their present home in the Wai-shuang-hsi are of Shi-lin, Taipei.
From other sources in the internet, it is one large place. I was half sleeping when we arrived at this museum. All I could see is that there were sign of "No Photography" around and of course . . . lots of people ( I presume they are the workers there ) all with a mouth mask and a "Silent" sign walking around and showing to tourist who are speakig too loudly.
Tour guide have to registered themselves and get each of their tours a sort of like walkie talkie kind of earpiece so that all of us tourist could listen to the tour leader in the same channel. There were lots of huge group around. Having to becareful not to follow the wrong group and of course to be near our tour guide so we could hear his explanation.
He brought us around the museum only to look at the few "important" stuff as time is pressing hard.
Ding Tripod to Ji from His Grandson, Late Shang Dynasty ca (13th to 11th Century B.C.E.)
Meat Shapped Jasper
Image adapted from Ikbenmore blog
Ivory Ball
, Qing Dynasty (1644 - 1911)
Concentric ivory spheres carved in openwork with cloud-and-dragon motifs.
It has 21 delicate crafted layers.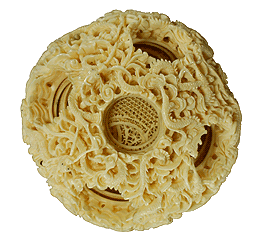 Image adapted from Taiwan Today
Jadeite Cabbage
, Qing Dynasty (1644 - 1911)
Image from China Museum
Carved Olive-stone Boat
,
National Palace Museum Site
And on this delicate carved Olive-stone boat. The expression on these people are different and the little window can be closed and open!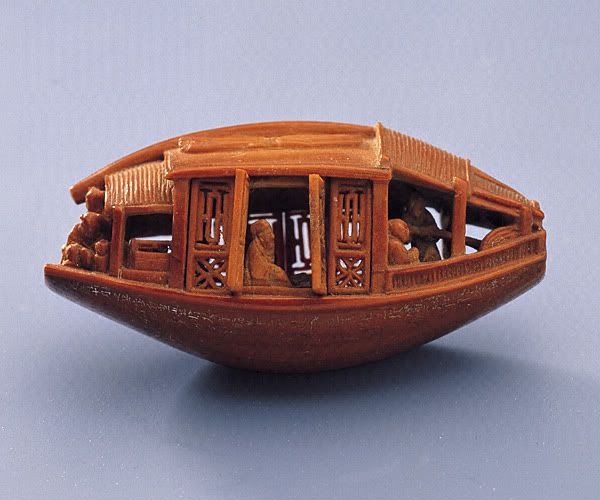 Image adapted from Digital Taiwan
National Palace Museum
No.221, Sec. 2, Zhishan Road,
Taipei 11143, Taiwan
Tel : 02-2881-2021
Fax : 02-2882-1440
URL :
http://www.npm.gov.tw/
More Readings on Taiwan Trip