Padi House, Cyberjaya
May 21, 2012
We were at Cyberjaya for our company's new datacenter cage launching in CX2. As usual, we always end the day with a company dinner. This time my colleague suggested going to Padi House which was halal and has a few options to cater for everyone's taste buds.
We were seated at a long table; me and a few other close colleagues ordered and shared our food for more variation.

────────────── APPETIZER, SOUP & SALAD ───────────────
Tuna Fish Garden Salad – RM8.90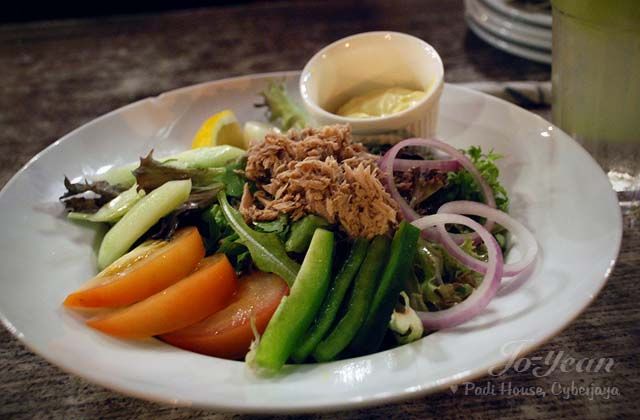 Tuna flakes placed atop of garden salad of tomatoes, onions, green capsicum and lettuces. Serves with a slice of lemon for seasoning and salad dressing on the side; this is the way a dieter would request.
Mongolian Lamb Cutlets – RM11.90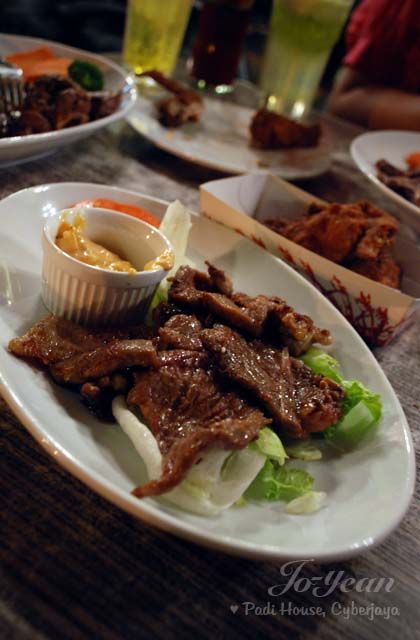 Lamb and mutton, the favorite food of one colleague . . . we would have no problem if the dish comes big. But it wasn't so. The cutlets are juicy and tender. Marinated with a spice, and grilled. Served with some sauce at the side. Not too bad.
Chix Buritto – RM8.90
This dish is new and recommended as per the menu. Chicken and cheese wrapped in a burrito. Sides with fries and some greens.
Crab Thermidor – RM7.90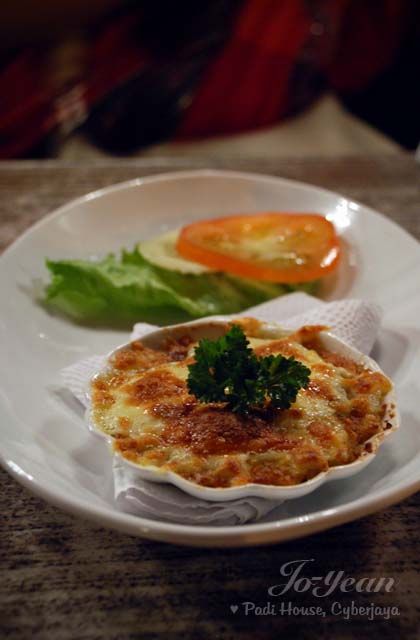 This dish, is one of the new dishes in the menu. The name 'crab' is already very tempting to my colleague, without hassle we made the order to share it. Rich and creamy, the flesh of crabs and baked with cream and cheese. Nice, luckily we are sharing with a few as it is quite rich.
Padi House Special Chicken Wings – RM9.90
Recommended, as it says in the menu. The chicken wings do smell good when it was served piping hot. The taste does do justice to the smell. My colleague had two of the wings. It was well marinated according to him.
──────────────────── MAIN COURSE ────────────────────
Spaghetti with Lamb Cutlet & Mix Vegetables – RM12.50
Colleague had this, she says it was quite weird to have lamb with pasta. Other than that, she has no complain.
Grilled Salmon with Key Lime Sauce – RM24.90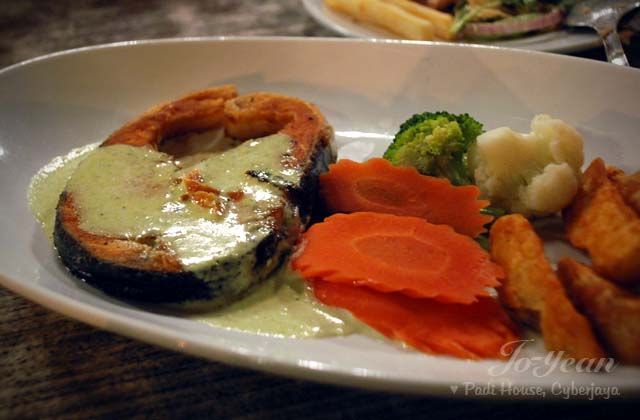 Salmon was OK, a little fishy probably it had cooled after we took the pictures. But with the combination of the Lime sauce it was better. Serves with potato wedges and some garden greens.
Grilled Lamb Chop with Café De Paris – RM17.90
It was quite difficult to differentiate between the two lamb chops my both colleague ordered. It looks similar except for the sauce it was served in. The sauce of café de paris much creamier compare to the black pepper. Marinated lamb grilled and topped with sauce. Serves with potato wedges and garden greens.
Grilled Lamb Chop with Black Pepper Sauce – RM17.90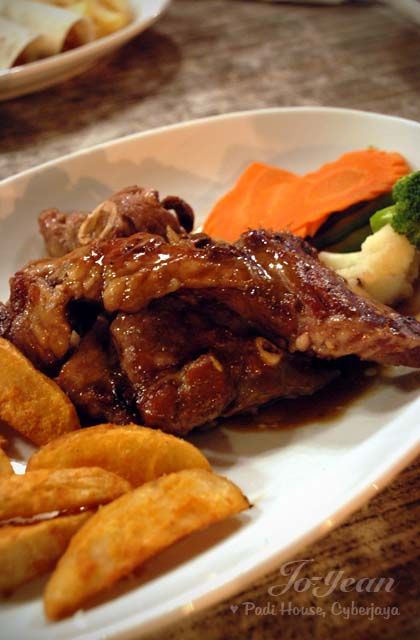 The difference of grilled lamb of this is the black pepper sauce. A little spicier compare to the café de paris sauce which is creamier. The lamb is marinated before grilling.
────────────────────── DRINKS ──────────────────────
Fresh Carrot Milk – RM4.90
Fresh Orange – RM4.50
Fresh Green Apple – RM4.50
Honey Lemon – RM4.20
Passion Fruit Tea – RM6.90
Padi House Restaurant
Block 3503, Jalan Teknokrat 5,
63000 Cyberjaya, Selangor
T : +603 8318 9368
Facebook
|
Website