Dr Cafe, Solaris Mont Kiara
November 13, 2011
Since we were stuck in Mon't Kiara during a heavy downpour. It was cold, we wanted a place to stay warm while waiting for the rain to stop after we did some light shopping at Cold Storage. The smell of coffee drifted to us. We headed towards Dr. Cafe for a nice warm cuppa.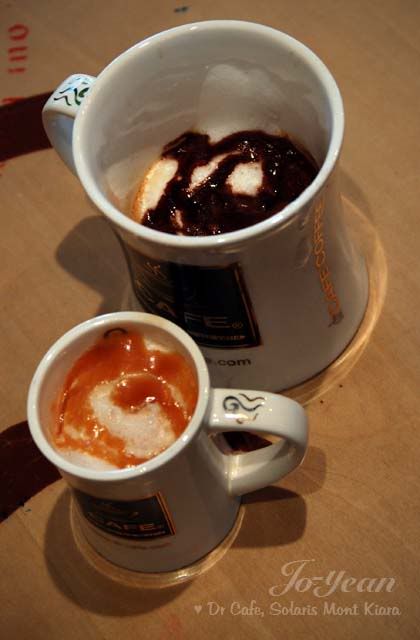 Looks like its some sort of Starbucks concept. Small little cafe, could hardly squeeze all the patrons while waiting for the downpour to stop. Anyway, we got ourself comfortable and ordered our drink.
Cappucino Tall - RM9.00
(behind)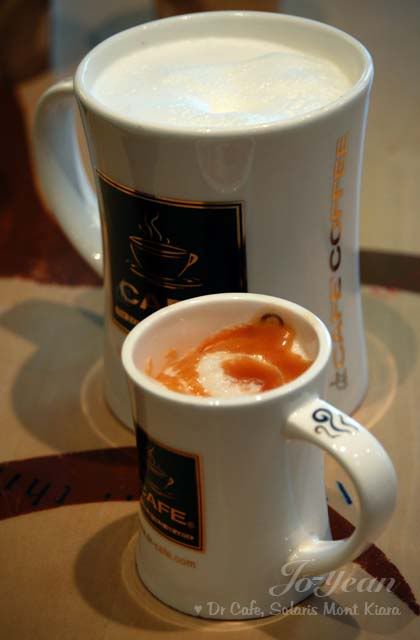 With a layer of white foam on top, the cappucino has a slight tint of caramel.
Caramel Coffee Mocha Tall - RM11.00
Covered in a white foam and chocolate powder, the Caramel Coffee Mocha had a tint of chocolate taste to the coffee.
Espresso Series
Caramel Macchiato, Single Shot - RM7.00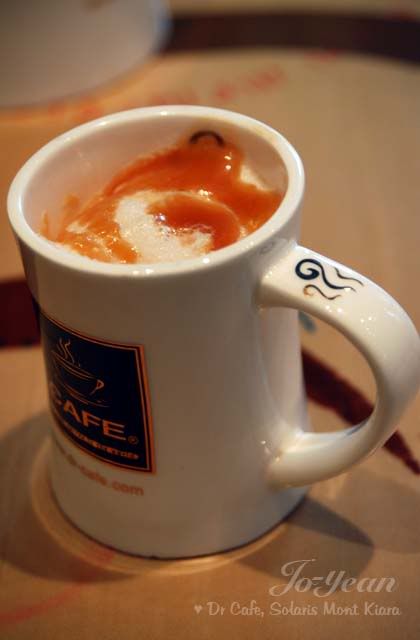 Served in a small little dainty tea-party teacup . . . I was doubting myself why did I order espresso! How am I going to do while waiting for the rain to stop and I could finish the drink in one gulp! I had actually wanted the Caramel Macchiato from Starbucks. Well, on the bright side. . . the drink wasn't that terrible as I half expected it to be. Anyway, there was a shelf for more condiments where you can add into your drink for more personal touch - cinnamon sugar, chocolate powder and vanilla sugar powder. I practically ate up my caramel macchiato before experimenting my espresso with the condiments. I like it with vanilla sugar though.
Macchiato Expresso, Double Shot - RM9.00
Caren ordered this, double shot. It wan't that much compare to the cup. I think it was macchiato with chocolate sauce . . . as I could not explain why is hers so much darker.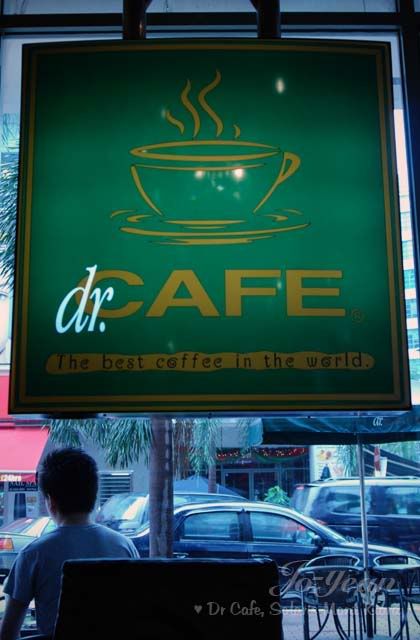 dr.CAFE Coffee
Solaris Mon't Kiara,
Kuala Lumpur
W :
www.dr-cafe.com.my