Dim Sum Buffet, Si Chuan Dou Hua Restaurant - PARKROYAL Hotel
November 14, 2011
Authentic Sichuan Cantonese flavours at Si Chuan Dou Hua Restaurant
Led by two experience Chefs – Wong Yunghai from Sichuan and Chinese Chef Chew Chee Kuong; the restaurant boasts an extensive a a-la carte menu featuring Sichuan specialities while complemented by a selection of Cantonese favourites. The restaurant had won many awards which they are being awarded as one of Malaysia's Best Restaurant as well as Award of Excellence for Best Value Meal at the Malaysia International Gourmet Festival 2008 (MIGF).
Si Chuan Dou Hua Restaurant is a renowned authentic Sichuan serving both traditional Sichuan and Cantonese cuisine (pork-free). Malaysia's first Si Chuan Dou Hua Restaurant is the third branch of the Si Chuan Dou Hua chain of restaurant at PARKROYAL Kuala Lumpur since July 2003. Located at the Lower Lobby of the hotel, Si Chuan Dou Hua Restaurant features a dramatic entrance flanked by discreetly illuminated glass etchings and zen-like surrounding with chinese instrumental music in the background. The restaurant is capable of taking 145 diners at any one time in its comfortable contemporary and elegant settings.
To start off our morning experience, we were greeted with a memorable experience made by tea server who presents the humble act of eight treasure tea serving tea art. The tea servers serves through a meter-long nose bronze tea kettle combining the skill of Chinese martial arts, dance and gymnastics to perform elegant tea-pouring moves.
Eight Treasure Tea
Eight treasure tea is also known as Ba Bao Cha, number eight refers to the number of ingredients in the tea. The ingredients are; Wolfberries, Red dates, Chrysanthemum, Dried longan, Jasmine or Long Jing tea leaves, Mai Dong (lilyturf root), Dried lily bulbs and Rock sugar. It was refreshing drink with taste of chrysanthemum and light sweetness.
Eight Treasure Tea after added water.
Pic courtesy from myfoodntraveldiary
Currently, since the 1
st
October, Si Chuan Dou Hua restaurant is running a great promotion – Dim Sum Buffet at RM55++ per person. It's time to regain your connection with the friends and family during the weekends over a bountiful dim sum feast. Starting as early as 9am, kick-start your morning with a variety of dainty dim sums and spread of buffet line, accompanied with authentic Sichuan sauce.
The buffet style in Si Chuan Dou Hua is a little different from the normal dim sum restaurant. There is no cart pushing around. Instead, they have a menu available and one can order the dim sum they like from the menu. This is ensure that the dim sum is fresh and its hot when served as dim sum is great to eat while it is hot.
However, while waiting for the dim sum ordered to arrive, there is a buffet line of other food available for the customers too. Don't indulge too much though, you still need space for the dim sum later. They have a long line of buffet food from snacks, main dishes of rice, porridge and noodles to desserts and fruits.
Some pic are courtesy from myfoodntraveldiary
L - R (clockwise) : Steam Chicken and Roasted Chicken for chicken rice, Porridge station with Picked vegetable porridge, Chicken porridge, Century egg porridge and Plain porridge as well as its condiments for porridge, Glutinous rice (normal and yam), Hakka Pancake and Noodle station with its assorted condiments. Desserts are from western to the chinese dainty dim sum dessert.
Fried Bee Hoon
Sort of like the Singaporean Fried Mee Hoon, with lots of ingredients.
"Kung Po" Chicken
Small pieces of chicken cooked in Sichuan spices. A bit of spicy and sour sort.
Steam Dim Sum from the menu are inclusive of; Siew Mai, Chicken Pau and Kam See Kau
Salted Egg Mai, Black Fungus Dumpling, Fish Ball
Shanghai Dumpling, Seaweed Mai and Chicken Feet
Besides the Buffet Dim Sum, here are some of the popular ala-carte dim sum.
Apology for remembering all the names of the dim sum, will try to recall the most similar name to the dim sum either by name of by its taste.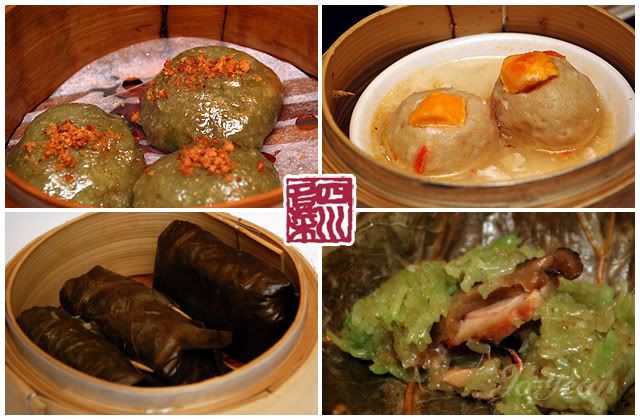 Spinach dumpling, Chicken Ball Stuffing (salted egg fish paste), Lotus leave rice.
oops... The Chicken Ball Stuffing does come in the buffet menu as well.
Siao Long Bao
Shark fin siew mai, Steam ham roll, Prawn dumpling (har gao)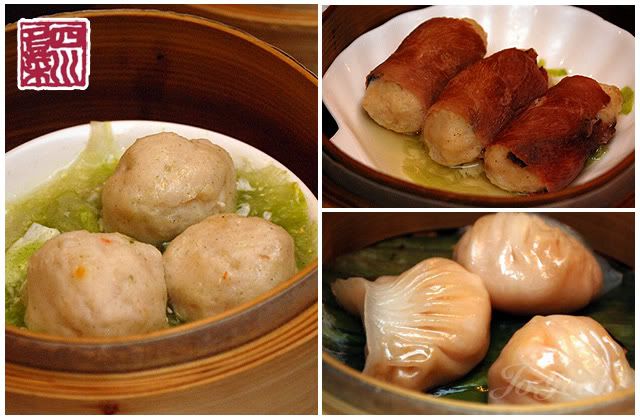 Fish paste, Steam ham roll, Prawn dumpling (Har Gao)
Also the fried dim sum from both the buffet and ala-carte.
Crispy chicken pastry, Yam dumpling (Woo Kok), Avocado sesame ball
And lastly, to end the dim sum session with a sweet note - Tong Sui, Bread and butter pudding and lastly non other than the Si Chuan Taufu Fah with wolfberries.
Price: RM 55++ ( Price are subjected to 6% Government tax and 10% service charge)
Si Chuan Dou Hua Restaurant
Parkroyal Hotel
Jalan Sultan Ismail
50250 Kuala Lumpur
Malaysia
T : +603-2782 8303
E : douhua@kul.parkroyalhotels.com
W : http://www.sichuandouhua.com/